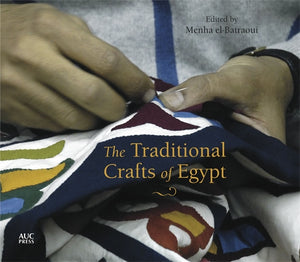 The Traditional Crafts of Egypt
Edited by Menha el-Batraoui
Many traditional crafts practiced in contemporary Egypt can be traced back hundreds, if not thousands, of years. Scenes inscribed on the walls of ancient temples and tombs depict the earliest Egyptians making pottery and papyrus and working with stone, wood, and other materials. The eleven chapters of this volume explore these and other crafts that continue to flourish in Egypt. From copper and glass works to jewelry, woodwork, and hand-woven carpets and fabric, each chapter offers an in-depth look at one material or craft and the artisans who keep its traditions alive.
The authors, drawing on historical sources and documentary research, sketch the evolution of each craft, looking into its origins, the development of tools and methods used in the craft, and the diverse influences that have shaped the form and function of craft items produced today, ranging widely through the pharaonic, Coptic, Islamic, and modern periods. This historical examination is complemented by extensive field research and interviews with craftsmen and women, which serve to set these crafts into a living cultural context and offer a window into the modern craft economy, the lives of craftspeople, and the local communities and traditions they express and sustain.
The volume is amply illustrated with vivid photographs of contemporary craft items and artisans at work, from the coastal town of Damietta to the far-flung deserts and the ancient alleyways of Cairo. It is a narrative and visual tour that provides valuable insight into contemporary Egypt as seen through its material culture and the legions of unsung artists who nourish and enrich it.
---
We Also Recommend