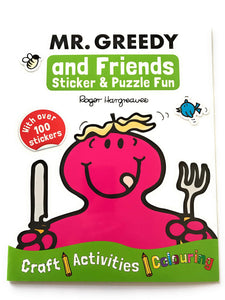 Mr. Greedy And Friends Sticker & Puzzle Fun
Is your little one a fan of Mr. Men and Little Miss characters by Roger Hargreaves? Then Little Miss Giggles and Friends Sticker & Puzzle Fun book is perfect for them. This book brings your little one fun-filled adventures featuring Little Miss Giggles - a hilarious, amusing, giggly, and twittery character.
It all started with a tickle. Roger Hargreaves' son Adam asked him what a tickle looked like. In response, Roger drew a small orange man with extraordinarily long arms that could reach anywhere and tickle anyone. Mr. Tickle was soon joined by Mr. Greedy, Mr. Happy, and other lovely characters. The books were an instant hit and Roger went on to create many more Mr Men and Little Miss characters. Join Mr. Men and their friends for some sticker and puzzle fun.
FEATURES AND DETAILS:
✏️ This book combines fun with learning.
✏️ Packed full of activities, coloring, and crafts.
✏️ Suitable for children over 3 years old of age.
✏️ This activity book is great for young Mr. Men and Little Miss fans.
✏️ Perfect gifts for pre-schoolers.
---
We Also Recommend