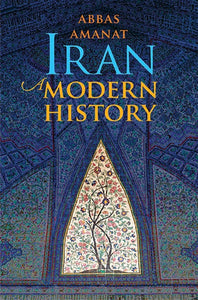 Iran: A Modern History
A masterfully researched history of Iran from 1501 to 2009

"The defiant spirit of [Iran] is brought to life in this monumental history of the past 500 years."—Richard Spencer, The Times (London)

"A majestic work that goes a long way in unraveling . . . the country's enigmas and apparent contradictions."—Ervand Abrahamian, New York Review of Books



This history of modern Iran is not a survey in the conventional sense but an ambitious exploration of the story of a nation. It offers a revealing look at how events, people, and institutions are shaped by currents that sometimes reach back hundreds of years. The book covers the complex history of the diverse societies and economies of Iran against the background of dynastic changes, revolutions, civil wars, foreign occupation, and the rise of the Islamic Republic.




 




Abbas Amanat combines chronological and thematic approaches, exploring events with lasting implications for modern Iran and the world. Drawing on diverse historical scholarship and emphasizing the twentieth century, he addresses debates about Iran's culture and politics. Political history is the driving narrative force, given impetus by Amanat's decades of research and study. He layers the book with discussions of literature, music, and the arts; ideology and religion; economy and society; and cultural identity and heritage.
---
We Also Recommend