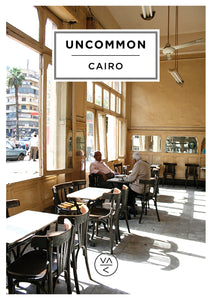 Uncommon Cairo
Mayault Isabelle, Heba Habib
Uncommon nurtures variety of expression through close collaboration with the editors-at-large, via a centralized editorial team. Each destination is approached with attention to detail and respect for the local customs and social structure.
Uncommon seeks to remain local in a global environment, working as much as possible with local editors, contributors, publishers, printers, distributors and marketing companies in each destination, who come together globally on the Uncommon digital platform. Unique to Uncommon is the appeal to both resident and visitor, as well as to those who may never visit the destination.
Unlike other formulaic travel guides that offer standard instruction to 'places of interest', Uncommon sets off where others end their journey. We do not propose to offer systematic checklists of 'secret' or 'underground'. Uncommon is not exhaustive and has within its breadth all aspects of the locality in question, not through impersonal, dry jargon, but rather through personal, evocative, distinct and well-informed voices. Text and image combine to reveal the codes and constructs of a place, and to celebrate and revere the particular.
Subsequently, Uncommon compels you to find your own path and tell your own story. In book format we experience an intimate meeting with a gathering of people, summoned to perform the same task - that of sharing stories of place and providing direction through text, photography, illustration and mapping.
This A5 companion is intended to be an object of aesthetic appeal and to become part of one's library. It is easy to carry on your journey, and may be picked up over and over again, referenced and revisited, just as we do with our most treasured neighborhoods and destinations. The people selected are connected to their society, may have a Facebook page or similar form of social media and digital representation, belong to a professional strata and be actively involved in their community.
The tone of the contributions will not be a pose for the camera, but rather what we do in our off time, and how we connect to what we are passionate about. We are not promoting a superficial lifestyle that is impossible to sustain, but rather a gentle meander through a neighborhood with reward. Timeless and far-reaching in its appeal, Uncommon is a journey we never stop taking.
---
We Also Recommend