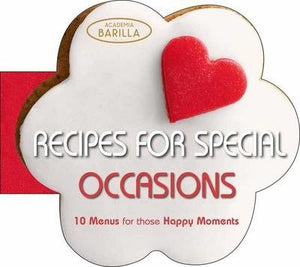 Recipes for Special Occasions: 10 Menus for those Happy Moments
Academia Barilla
According to a famous Italian proverb, 'You can't rule your heart', but perhaps it could also be said that 'You can't rule your taste.' That food is more than a means of nutrition, that it also involves the spheres of culture, feelings and emotions is a widely held opinion. Food is conviviality and passion and for this reason the relationship between alimentation and emotions is very close, and sharing the joy of a meal with the people you love is one of the many ways of expressing these feelings, of strengthening and reinforcing ties of affection.
This title is for couples in love, for Saint Valentine's Day, for Mother's or Father's Day, or for any special occasion. Compiled by Academia Barilla, the international centre of excellence, involved in the safeguarding and promotion of Italian gastronomic culture and traditions, offers 10 menus, accompanied by highly colourful illustrations, that suggest different ways to produce unforgettable dishes and to transmit what is in the heart, through tasty flavours and scents.
AUTHOR: Academia Barilla, founded in 2004 in Parma, one of the most distinguished capitals of Italian cuisine, is a centre of great professionalism and talent that is exceptional in the world of cooking. It promotes Italian culinary art, protecting the regional gastronomic heritage and safeguarding it from imitations and counterfeits, while encouraging the great traditions of the Italian restaurant industry.
Academia Barilla organizes cooking classes for culinary enthusiasts, distributes the best Italian products, and spreads Italy's gastronomic culture through publications like this one that recount the unequalled riches of the country. 49 colour photos
---
We Also Recommend