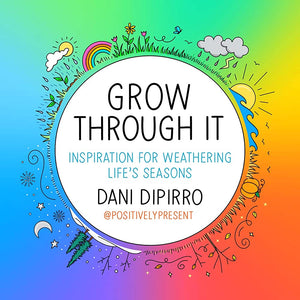 Grow Through It: Inspiration for Weathering Life's Seasons
Dani DiPirro

A charming, colorful illustrated guide showing you how to adopt a more positive mindset, even when the skies are grey and stormy. Beautifully illustrated and heartfelt, this gorgeous little book shares big insights about how to stay positive in an increasingly negative world.
Artist Dani DiPirro started her Instagram "@positivelypresent", after she realized that positivity, like all self-care, is an essential skill that needs to be practiced daily. She began posting her bright and bubbly illustrations, sharing the ups and downs of her journey to positive thinking, and now has an audience of over 895,000 followers who find her work comforting, inspiring and uplifting.
In Grow Through It, Dani shares never-before-seen content to take us through the seasons, showing us how to pick out the positives on both the sunny days and the grey ones. She also reminds us to take a break for self-care, to stop comparing ourselves to others, and to grow at our own pace. No matter what the situation, optimism is always an option!
---
We Also Recommend