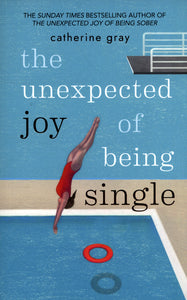 The Unexpected Joy of Being Single
Catherine Gray

From the Sunday Times bestselling author 'This refreshing, unusual book needs to exist. 
Single in your late twenties or, hold the phone, in your thirties or beyond? Oh hi! You're in the right place.

Over a third of us are now single. With the single camp growing at ten times the rate of the actual population, it is now the norm to be single well into our thirties - the average marriage age for women is 35 and 37 for men. But nobody seems to have told society, romcom makers, songwriters, marriage-hungry mothers, 'tick-tock' uncles, our mates or us that.

Cue: single anxiety. Love addiction. Spending hours scrolling through dating apps. Being inconsolable when he/she doesn't text. Humming 'Here Comes the Bride' when they do.

Catherine Gray went through all of this. And then some. She took a whole year off dating to get her love-hooked head straight. How do we chill our boots about our single status? Detach from 'all the good ones are gone!' panic? And de-programme from urgent, red, heart-shaped societal pressure to find your 'other half*'? We know intellectually that single is far preferable to panic-settling, yet we forget that almost constantly. Why? Psychologists and neuroscientists tell us? Let's start the reverse-brainwash and locate our happily-single sanity, for good. Are you in?

*Spoiler: you're already a whole person.
---
We Also Recommend