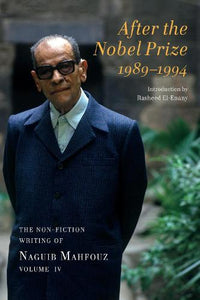 After the Nobel Prize 1989-1994 - The Non-fiction Writing of Naguib Mahfouz, Volume IV
Naguib Mahfouz; R. Neil Hewison; Rasheed El-enany
Naguib Mahfouz, the Arab world's only Nobel literature laureate, is best known internationally for his short stories and novels, including The Cairo Trilogy. But in Egypt he was equally familiar to newspaper readers for the column he wrote for many years in the leading daily Al-Ahram, in which he reflected on issues of the day from domestic and international events, politics, and economics to historic anniversaries, inspirational personalities, and questions of cultural freedom.
This volume brings together the 285 articles he wrote between January 1989 and the near-fatal knife attack in October 1994. In carefully crafted short texts, his social conscience is revealed as he highlights political shortcomings, economic injustice, and corruption in Egypt and the wider Arab world. His philosophical sensitivity comes to the fore as he contemplates the meaning of a historic events, contributions of an influential people, and what is required to lead a good life. The collapse of the Soviet Union, the Oslo peace accords, the spread of terrorism, the Cairo earthquake, the passing of Louis Awad, Yusuf Idris, Yahya Hakki, the third term of Hosni Mubarak, climate change, and more come under Naguib Mahfouz's fine scrutiny.
For any fan of Mahfouz's fiction, this collection opens a window on a different side of his intellect, and it offers insights from one of the region's greatest modern minds.
---
We Also Recommend