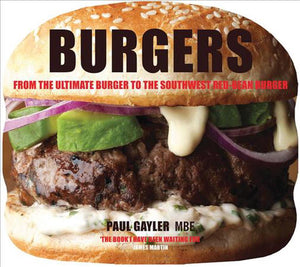 Burgers
Paul Gayler
Tapping into the global contemporary style of cuisine for which he is so well-known, Paul Gayler MBE, former Executive Chef de Cuisine at The Lanesborough hotel in London, chooses 25 of his favourite burger recipes.
Including a selection of meat fish and vegetarian recipes, this collection offers something for everyone, from classic favourites such as the Ultimate Burger with 'the works' and the Wolseley hamburger, to mouth-watering, new recipes such as the Caribbean pork burger, the Tandoori lamb burger and the Walnut, Courgette and Millet burger.
And where's a burger without some accompanying fries and sides? All the sides - from classic slaw and ultimate fries to basic mayo and Tabasco ketchup, and much more in terms of relishes, pickles and sauces - are handily grouped together at the back of the book. Whether you're cooking for a sophisticated dinner party or a low-key barbecue, there's a burger here for every occasion.
---
We Also Recommend