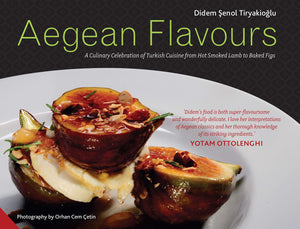 Aegean Flavours
 'Didem's food is both super-flavoursome and wonderfully delicate. I love her interpretations of Aegean classics and her thorough knowledge of its striking ingredients.' Yotam Ottolenghi Having incorporated the unique flavours of Turkey's Aegean region into her culinary repertoire, Didem Senol shows her love for the area's vibrant markets and exciting produce of in this gastronomic journey.
Part travelogue, part guide to the best local markets, Aegean Flavours is above all a recipe book filled with hard information and inspiring ideas that will allow you to create and savour a wide variety of dishes.
With flavours ranging from the fragrant and refreshing to the rich and aromatic, the herbs, spices, vegetables, fruits and natural produce sourced from the Aegean will add an effortless and dynamic twist your meals.
From light and palatable soups and salads, like spinach and pomegranate salad, to succulent and exotic meat and poultry dishes, like hot-smoked lamb loins with mustard sauce and caramelised onion, there is something for e
---
We Also Recommend