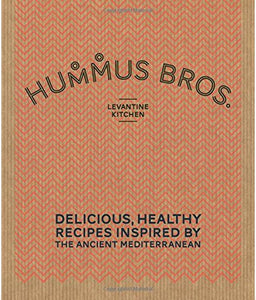 Hummus Bros. Levantine Kitchen: Delicious, healthy recipes inspired by the ancient Mediterranean
Hummus Bros.
People are passionate about hummus. This versatile, cheap and healthy dip a true staple of the eastern Mediterranean, where every restaurant wants to be known as makers of the best hummus in town. The Hummus Bros. offer the best hummus in London and now they bring it to the world via their first book. A quick look at the Hummus Bros' menu and you'll notice a diverse range of accompaniments to hummus, which is the main star.
Because rather than being just a dip, the Hummus Bros see hummus as a way of eating. Here they share 60 recipes, from the hummus itself, though meat and veggie accompaniments, the essential falafel recipe, salads, breads, sauces and even delicious desserts and drinks. Featuring lamb with pine nuts and Middle Eastern spices, smoky barbecued aubergine, tabouleh, a 5000-year-old recipe for fava beans, and even a surprising guacamole. All the recipes are simple and fresh and easy to prepare. They are also healthy, fashionable and easy on the pocket. Beautifully photographed and designed, Hummus Bros. Levantine Kitchen is an essential book for anyone keen on the humble chickpea. Learn to make the best hummus. Ever.
---
We Also Recommend