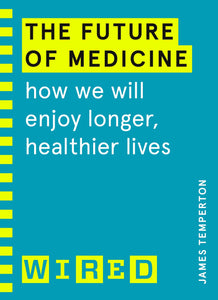 The Future of Medicine (WIRED guides): How We Will Enjoy Longer, Healthier Lives
James Temperton; 
By the end of this century, living beyond 100 will be the rule rather than the exception. What medical breakthroughs and new technologies will make this possible?
In this brilliantly wide-ranging, one-stop guide WIRED journalist James Temperton outlines the medical revolutions that are transforming healthcare. He looks at the burgeoning immune therapies that could one day cure such life-threatening diseases as cancer.
He explores the science - and ethics - of genetic engineering and its potential to create 'designer babies'. He considers the role that cutting-edge medical research could play in the treatment of mental and neurological disorders ranging from depression to autism.
And he addresses the fundamental question: could medical technology become so sophisticated that we witness the end of aging?
---
We Also Recommend