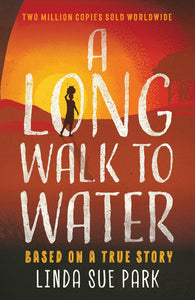 A Long Walk to Water: International Bestseller Based on a True Story
Linda Sue Park
A gripping tale of conflict and survival that has inspired millions of young readers and adults alike, with two million copies sold worldwide Eleven-year-old Salva is forced to flee on foot when it comes under attack.
Braving every imaginable hardship - including killer lions and hungry crocodiles - he is one of the 'lost boys' traveling the African continent on foot in search of his family and a safe place to stay.
Nya goes to the pond two times a day to fetch water. It takes her eight hours. But there is unexpected hope, as these two stories set in Sudan - one unfolding in 2008 and one in 1985 - go on to intersect with Nya's in an astonishing and moving way.
---
We Also Recommend