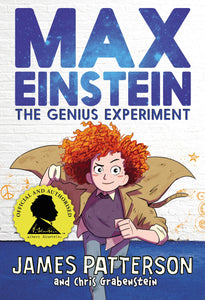 Max Einstein: The Genius Experiment
James Patterson
'James Patterson is the Einstein of fiction and has solved the equation for storytelling: Adventure + Science = AWESOME!' Tom Fletcher 'Any young readers out there interested in science and adventure ... this book is brilliant!
Tim Peake, astronaut James Patterson has teamed up with the world's most famous genius to entertain and inspire a generation of children - with the first and only children's adventure series officially approved by the Albert Einstein Archives.
Max Einstein is a typical 12-year-old. She... Goes to college every day Plays speed chess in the park Builds inventions that help the homeless And talks to Albert Einstein All normal stuff, right? Until one day when Max is recruited by a mysterious organisation!
Their mission: solve some of the world's toughest problems using science. She's helped by a diverse group of young geniuses from around the globe as they invent new ways to power the farthest reaches of the planet. But that's only if the sinister outfit known as The Corporation doesn't get to her first...
---
We Also Recommend