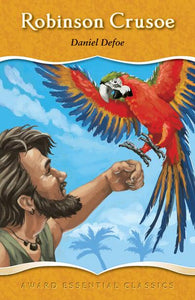 Robinson Crusoe
Daniel Defoe; Katy Jackson
As a boy, young Robinson was forever eager to go to sea, and when he disobeys his parents and first sets sail so begins his extraordinary life of adventures.
Shipwreck, pirates, slavery and adversity all await him in this classic story of one man's struggle to endure and survive.
One of the first novels written in English, Defoe's unforgettable tale is justifiably among the most widely published books ever written. 
---
We Also Recommend