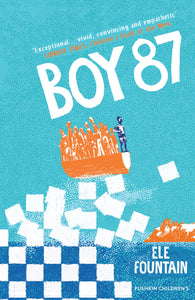 Boy 87
Ele Fountain
Boy87 is an original and beautifully written page-turner of a novel about love, survival and the strength that can be found in a hopeful human spirit' — Sarah Crossan, Carnegie Medal Winner
'Shif is an unforgettable character, and his story should be read by everyone who cares about one of the unfolding tragedies of our time' — Award-winning author Elizabeth Laird
Shif is just an ordinary boy who likes chess, maths, and racing his best friend home from school. But one day, soldiers with guns come to his door – and he knows that he is no longer safe.
Shif is forced to leave his mother and little sister, and embark on a dangerous journey; a journey through imprisonment and escape, new lands and strange voices, and a perilous crossing by land and sea. He will encounter cruelty and kindness; he will become separated from the people he loves.
Boy 87 is a gripping, uplifting tale of one boy's struggle for survival; it echoes the story of young people all over the world today.
---
We Also Recommend