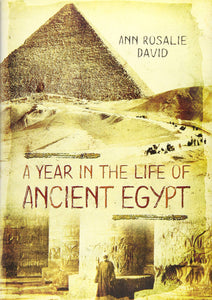 Year in the Life of Ancient Egypt
Ann Rosalie David
Based on years of prestigious academic work, Professor Rosalie David cleverly presents every aspect of life in ancient Egypt through the lives of various characters, all based on mummies from the Manchester Museum whom Professor Rosalie David has led the study of.
Characters hail from all walks of life, including royalty, nobles, officials, craftsmen and peasants, allowing us an insight into absolutely every aspect of everyday, ritual and religious life in ancient Egypt.
The book provides an overview of the many dynasties and kingdoms of ancient Egypt before beginning to tell the story of the lives of one family.
All three seasons of inundation, planting and growing, and harvesting are covered as well as all ritual and religious events, including birth and death.
The book is extremely easy to read and digest, however, the attention to detail and the vivid picture of life which we are able to build makes it clear that this book has been written by one of the leading authorities in Egyptology and mummy research.
The mummies are currently on a tour of the US titled 'Mummies of the World 2' and will return to Manchester following this tour.
---
We Also Recommend