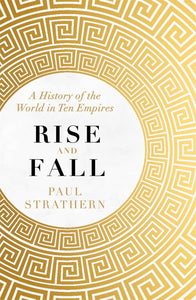 Rise and Fall: A History of the World in Ten Empires
Paul Strathern
Rise and Fall opens with the Akkadian Empire, which ruled over a vast expanse of the region of ancient Mesopotamia, then turns to the immense Roman Empire, where we trace back our western and eastern roots.
Next Strathern describes how a great deal of western classical culture was developed in the Abbasid and Umayyid Caliphates. Then, while Europe was beginning to emerge from a period of cultural stagnation, it almost fell to a whirlwind invasion from the East, at which point we meet the Emperors of the Mongol Empire .
Combining breathtaking scope with masterful concision, Paul Strathern traces connections across four millennia and sheds new light on these major civilizations - from the Mongol Empire and the Yuan Dynasty to the Aztec and Ottoman, through to the most recent and biggest Empires: the British, Russo-Soviet and American. Charting 5,000 years of global history in ten succinct chapters, Rise and Fall makes comprehensive and inspiring reading to anyone fascinated by the history of the world.
---
We Also Recommend