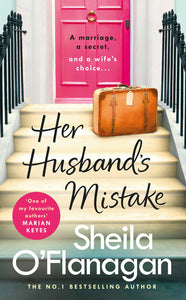 Her Husband's Mistake: A marriage, a secret, and a wife's choice...
Sheila O'Flanagan

THE NO. 1 BESTSELLER SHEILA'S FANTASTIC NEW NOVEL
The page-turning new novel about a marriage, a secret, and a wife's choice, from the bestselling author of The Missing Wife and The Hideaway 'Brilliantly written and with plot twists popping out like Prosecco corks, this is a devour-over-a-weekend gem' Woman and Home 'One of my favourite authors' Marian Keyes Dave's made a BIG mistake. What's Roxy going to do about it?
The riveting new novel from No. 1 bestselling author Sheila O'Flanagan. Perfect for readers of Marian Keyes and Amanda Prowse. Roxy's marriage has always been rock solid. After twenty years, and with two carefree kids, she and Dave are still the perfect couple. Until the day she comes home unexpectedly, and finds Dave in bed with their attractive, single neighbour. Suddenly Roxy isn't sure about anything - her past, the business she's taken over from her dad, or what her family's future might be. She's spent so long caring about everyone else that she's forgotten what she actually wants. But something has changed. And Roxy has a decision to make. Whether it's with Dave, or without him, it's time for Roxy to start living for herself.
---
We Also Recommend