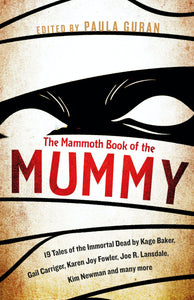 The Mammoth Book Of the Mummy: 19 tales of the immortal dead by Kage Baker, Gail Carriger, Karen Joy Fowler, Joe R. Lansdale, Kim Newman and many more
Paula Guran
Human mummies, preserved by both accident and intent, have been found on every continent except Antarctica.
These enigmatic remains of humanity have fascinated people for centuries. Shrouded in history they have acquired meaning and symbolism quite separate from their value as a source of historic knowledge, inspiring tales of reanimation, reincarnation, loves that outlive death, and curses that bring vengeance from the past.
As a figure of horror and the supernatural the mummy has attained iconic status in the popular imagination.
The Mammoth Book of the Mummy presents a collection of tales written for the twenty-first century - including some brand-new stories - that explore, subvert and reinvent the mummy mythos; some delve into the past, others explore alternative histories, and some bring mummies into our own world.
Here you will find stories of revenge, romance, monsters and mayhem, ranging freely across time periods, genres and styles, by Kage Baker, Gail Carriger, Paul Cornell, Carole Nelson Douglas, Terry Dowling, Noreen Doyle, Steve Duffy, Karen Joy Fowler, Will Hill, Stephen Graham Jones, John Langan, Joe R. Lansdale, Helen Marshall, Kim Newman, Norman Partridge, Adam Roberts, Robert Sharp, Angela Slatter, Keith Taylor and Lois Tilton.
---
We Also Recommend