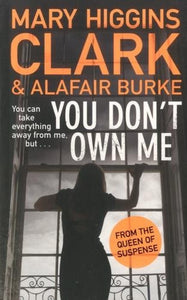 You Don't Own Me
Mary Higgins Clark; Alafair Burke
The extraordinary new novel from the grande dame of suspense Mary Higgins Clark and Alafair Burke. Martin and Kendra Bell have the perfect life. But cracks have started to appear on the surface of their marriage.
Kendra suspects that Martin isn't the kind and generous man she fell in love with. And Martin believes that Kendra is hiding a drinking habit - what else could explain her rapid personality change? And then someone guns Martin down in front of his own house. Despite Kendra's rock-solid alibi, suspicion falls on her shoulders.
Five years later, Martin's killer remains at large, and Kendra remains a suspect. Now, with Martin's parents threatening to take her children from her, Kendra will have to get help from the only people who believe she's innocent: Laurie and the Under Suspicion team.
And what they uncover will change everything. Praise for Mary Higgins Clark & Alafair Burke 'I adore Mary Higgins Clark' Karin Slaughter 'Trust Mary Higgins Clark to know what frightens us to death' New York Times 'Clark plays out her story like the pro that she is . . . flawless' Daily Mirror 'Should come with a warning: start in the evening and you'll be reading late into the night' USA Today
---
We Also Recommend