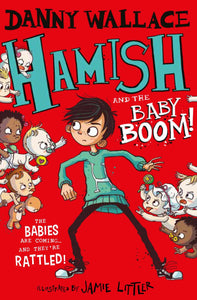 Hamish and the Baby BOOM!
Danny Wallace; Jamie Littler
'HA HA HA HA HA HA HA HA HA HA HA!' Frank Cottrell Boyce 'Hilarious' Tim Minchin 'Danny Wallace and Jamie Littler's books contain all the wit and warmth of Dahl and Blake at their best. Irresistible.' Phil Earle 'Like David Walliams, Danny Wallace is a comedian turned children's author. Of the two, Wallace's writing is funnier' The Sunday Times, Children's Book of the Week Get ready for another hilarious adventure from bestselling author Danny Wallace brought to life with illustrations from Jamie Littler, perfect for fans of David Walliams, Roald Dahl, David Baddiel and David Solomons! Beware the Babies ... they CRY ... they POO ... they ATTACK!
Hamish and the PDF have been left in charge of Starkley while his dad and the rest of the Belasko agents are off hunting down the universe's second-most dangerous villain - Axel Scarmarsh! But nothing bad will happen while he's gone, right? WRONG! Suddenly the babies of Starkley are on the rampage and causing chaos - but only Hamish and his friends seem to be worried about the odd behaviour. What's behind the baby uprising and can the mini mutiny be stopped before EVERY BABY ON EARTH rises up?!
---
We Also Recommend