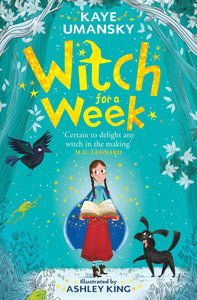 Witch for a Week
Kaye Umansky; Ashley King
'A Bewitching tale, charmingly told and is certain to delight any witch in the making' M.G, Leonard, award-winning author of Beetle Boy 'A gorgeous story that bubbles with charm, wit and magic' Abi Elphinstone, author of The Dreamsnatcher 'Bursting with memorable characters, a huge sense of fun and a big dollop of honey, flowers and strawberry-scented magic!' Joe Berger, author of Lyttle Lies and Hubble Bubble 'A sulky raven, a grubby dog and a common-sense heroine with a strong sense of customer service.
This is a funny, magical treat!' Holly Webb, author of Lost in the Snow When Elsie Pickles offers to house-sit the mysterious home of local witch Magenta Sharp, she has no idea what she's getting herself into. Left with a talking raven and a scruffy dog for company, a magical tower that has a mind of its own and a book of instruction called Everything You Need to Know, what could possibly go wrong? With an assortment of weird and wonderful neighbours banging at the door and a box of volatile magical ingredients that must be used immediately, Elsie finds out that looking after Magenta's home might not be as easy as she first thought.
Does she have what it takes to be a witch for a week or will it all end in a magical disaster? A new magical adventure from Kaye Umansky, the bestselling author of the spellbinding children's classic Pongwiffy, brought to life with charming illustrations from rising star Ashley King!
---
We Also Recommend