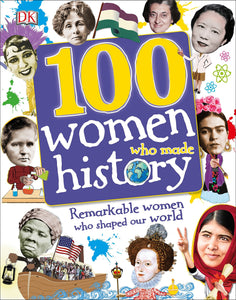 100 Women Who Made History: Remarkable Women Who Shaped Our World
DK
If you thought that it was a man's world, think again! 100 Women Who Made History is the exciting story of the women who changed the world.

Get ready to meet some of history's wonder women. From super scientists like Marie Curie and Rosalind Franklin to clued-up creatives like Emily Dickinson and J.K Rowling. Celebrate centuries of brave and brilliant women with this visual educational book.


Meet the most talented and famous women in history. Figures who changed politics, science, business, and the arts, to those who were exciting entrepreneurs and clever creatives.

Discover the landmark moments in the lives of amazing historical women. Learn about leading ladies like Joan of Arc and Eleanor Roosevelt, and modern game-changers such as Maya Angelou, Angela Merkel, Serena Williams, and Malala Yousafzai.

A rich history book for kids that explores the lives of each woman in detail with beautiful photography and quirky "bobblehead" illustrations that present history on an engaging and fun way.
---
We Also Recommend