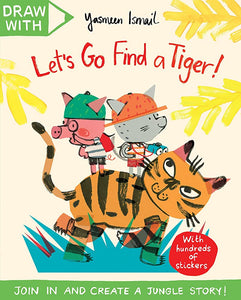 Draw With Yasmeen Ismail: Let's Go Find a Tiger!
Yasmeen Ismail
If you like drawing, coloring, art, storytelling, and stickers, then this book is for you! A brand new activity book idea from an award-winning children's author/illustrator, this exciting new sticker activity book is your chance to create, draw and color your very own jungle story with the incredible Yasmeen Ismail. You'll have a real expert as your guide as you step into the jungle - and the exciting world of story creation.
Yasmeen starts the story, but she'll need your help to complete it by drawing, coloring, and using the many colorful stickers to create some truly incredible jungle animals. So sharpen those pencils, crack open those felt tips, and prepare to get sticking! It's time to find monkeys, elephants, crocodiles - and if you're very lucky a tiger! A unique sticker book featuring two adorable characters, an exciting jungle journey, and some bright, bold sticker designs, perfect for creating your colorful jungle creatures.
Designed to encourage a child's creativity and show that anyone can tell a story, this is the perfect gift for aspiring artists and storytellers. The start of a brand new sticker activity book series where you get to draw, write, color, and create with your favorite artists from the world of children's books. Also available: Draw With Marta Altes: You Are an Artist!
---
We Also Recommend