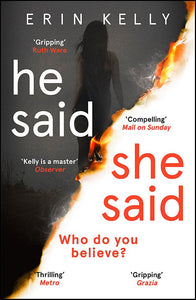 He Said/She Said: the must-read bestselling suspense novel of the year
Erin Kelly
Read the first 10 chapters of He Said/She Said!
In the summer of 1999, Kit and Laura travel to a festival in Cornwall to see a total eclipse of the sun. Kit is an eclipse chaser; Laura has never seen one before. Young and in love, they are certain this will be the first of many they'll share.
But in the hushed moments after the shadow passes, Laura interrupts a man and a woman. She knows that she saw something terrible. The man denies it. It is her word against his.
The victim seems grateful. Months later, she turns up on their doorstep like a lonely stray. But as her gratitude takes a twisted turn, Laura begins to wonder—did she trust the wrong person?
15 years later, Kit and Laura married are living under new names and completely off the digital grid: no Facebook, only rudimentary cell phones, not in any directories. But as the truth catches up to them, they realize they can no longer keep the past in the past.
From Erin Kelly, queen of the killer twist, He Said/She Said is a gripping tale of the lies we tell to save ourselves, the truths we cannot admit, and how far we will go to make others believe our side of the story.
---
We Also Recommend