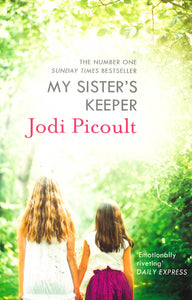 My Sister's Keeper
Jodi Picoult
THE MILLION-COPY BESTSELLER AND MAJOR MOTION PICTURE
'Emotionally riveting and will test your tear ducts to the limit' Daily Express

In all thirteen years of Anna's life, her parents have never given her a choice: she was born to be her sister Kate's bone marrow donor and she has always given Kate everything she needs.

But when Anna is told Kate needs a new kidney, she begins to question how much she should be prepared to do to save the older sibling she has always been defined by. So Anna makes a decision that will change their family forever – perhaps even fatally for the sister she loves.

From internationally bestselling author Jodi Picoult comes a masterpiece that asks us just how much we should do to care for the ones we love.

MAD HONEY, the stunning and compelling Sunday Times bestseller by Jodi Picoult and Jennifer Finney Boylan is available now.
---
We Also Recommend