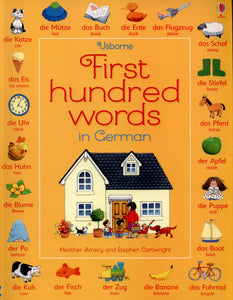 First Hundred Words in German
Heather Amery; Mairi Mackinnon; Stephen Cartwright
Young children can learn key German vocabulary in this German/English word book, with one hundred everyday words illustrated in busy scenes and with labelled pictures.
Colorful illustrations by Stephen Cartwright provide lots to look at and talk about, and there's a little yellow duck to find on each double page. Includes an alphabetical German/English word list with easy-to-use pronunciation guide.
Children can also listen to all the words read aloud by a native German speaker at the Usborne Quicklinks website.
---
We Also Recommend