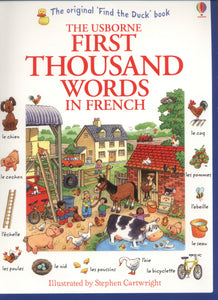 First Thousand Words in French
Heather Amery; Stephen Cartwright
Those learning French will have great fun spotting and memorizing one thousand French words in this classic word book.
Each scene features colorful illustrations by the much-loved Stephen Cartwright, including a Little Yellow Duck to spot on every page. Readers can listen to every word read by a native French speaker at the Usborne Quicklinks Website.
Words are divided into themes including 'At Home', 'Actions' , 'Food' and 'Colors'. A fun way to learn key French vocabulary.
---
We Also Recommend