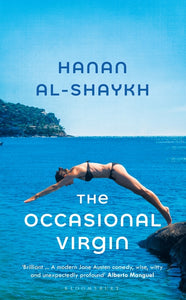 The Occasional Virgin
Hanan al-Shaykh
From a major novelist of the Arab world comes a bold, witty and highly contemporary novel about two women looking for love, set in Italy, Lebanon and London Huda and Yvonne are on holiday in the Italian Riviera, enjoying the sun and the sparkling Mediterranean, reminiscent of their childhoods in Lebanon.
Yvonne doesn't know what she's doing wrong, either there or back in London where she runs an ad agency - she seems to spend her time waiting for the right man to come along and not leave again just as quickly.
Her friend Huda has no problems in this department, only she isn't really interested in her effect on men - till Hisham comes along. But it isn't love spurring Huda on, it's her desire to teach him a lesson.
Because while you can't escape your past, you can perhaps avenge it. Frank, funny and fearless, The Occasional Virgin is the colourful, wickedly entertaining story of two unforgettable women and the lengths we'll go to for love.
---
We Also Recommend