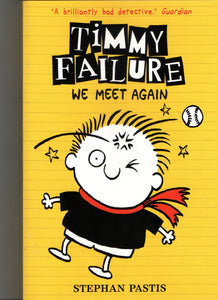 Timmy Failures Totally Catastrophic Boxs
Stephan Pastis
This is a book about very nice people. None of them is Timmy Failure. The main character in a children?s book is often the kindest, most heroic person in the story, but not here. Timmy spends his time in class drawing insulting baseball cards with pictures of his classmates.
Molly Moskins has a crush on Timmy. Her baseball card says, Characteristics: Mismatched pupils. Smells like tangerine. His best friend's card says, Boring.
In spite of that, his friends go out of their way to help him, and a good-natured teacher even asks if Timmy will draw him on a baseball card.
His card has only one word on the back: Nosy. Some readers will lose patience with Timmy, and they may even wonder if the book would be better with someone else as the main character.
But there are several moments where Timmy is unironically sweet. Anyone familiar with the previous books in the series may be surprised at the genuine sentiment in a few scenes. There are actual hugs, and there?s a deeply touching conversation with a very unlikely person.
---
We Also Recommend