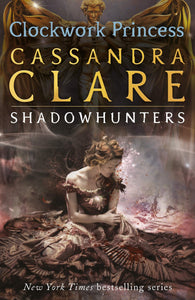 The Infernal Devices 3: Clockwork Princess
Cassandra Clare
Third in Cassandra Clare's internationally bestselling Infernal Devices trilogy about the Shadowhunters. Danger and betrayal... Secrets and enchantment... Third and final book in the bestselling prequel series to The Mortal Instruments, set in Victorian London.
A net of shadows begins to tighten around the Shadowhunters of the London Institute. Mortmain needs one last item to complete his plan. He needs Tessa. But Jem and Will, the boys who lay equal claim to Tessa's heart, will do anything to save her.
This edition contains a map and a new foreword by Cassandra Clare. Read all the sensational books in The Shadowhunter Chronicles: The Mortal Instruments, The Infernal Devices, Tales from the Shadowhunter Academy, The Bane Chronicles, The Dark Artifices, The Last Hours and The Shadowhunter's Codex.
---
We Also Recommend