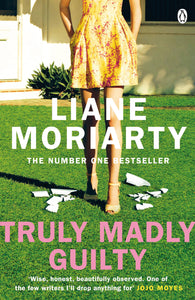 Truly Madly Guilty: From the bestselling author of Big Little Lies, now an award winning TV series
Liane Moriarty
From the bestselling author behind the addictive, EMMY and GOLDEN GLOBE-winning HBO series Big Little Lies, comes a cocktail of friendship and modern love - spiked with a little deception.
Six responsible adults, two best friends - and one day that changes everything. 'This is a story which begins with a barbecue in the suburbs. . .' By the end of it a lifelong friendship will be in tatters, a marriage on the rocks and an innocent bystander dead. In just one evening six lives will change for ever.
If you aren't already a Moriarty addict, you will be after this utterly obsessive read. 'If you liked The Husband's Secret, or Big Little Lies, you will love Truly Madly Guilty. Filled with so many twists and turns.
Keeps you guessing until the very end. Perfect summer read' Reese Witherspoon 'If, like us, you've been obsessively enjoying Big Little Lies, then you must clear a reading slot for this novel by the same author.
Truly Madly Guilty is as brilliantly accomplished as it is dark, twisty and compulsive. No wonder Reese Witherspoon is such a huge Moriarty fan' Heat 'Straight-from-life characters, knife-sharp insight and almost unbearable suspense will have you racing through it' Good Housekeeping 'A riveting drama packed with suspense and secrets' Woman & Home
---
We Also Recommend