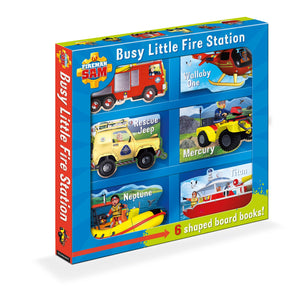 Fireman Sam: Busy Little Fire Station
 It's a very busy day at the Fire Station! Wallaby One the Helicopter helps Mandy off a cliff, Neptune the Life Boat rescues Naughty Norman, and Jupiter puts out a fire at Mike Flood's house.
Each mini-book is shaped like one of Fireman Sam's rescue vehicles - perfect for little hands! Children will enjoy reading the stories and then making up their own exciting adventures!
Featuring: Jupiter the Fire Engine, Mercury the Quad Bike, Neptune the Life Boat, Titan the Rescue Boat, the Rescue Jeep, and Wallaby One the Helicopter. Fireman Sam is a big hit with kids aged 3 and 4 and perfect entertainment for those who love Bob the Builder and Postman Pat.
---
We Also Recommend