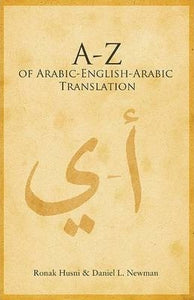 A to Z of Arabic-English-Arabic Translation
Ronak Husni; Daniel L. Newman
The A to Z highlights common pitfalls faced by translators working on both Arabic-English and English-Arabic texts. Each translation problem is carefully contextualized and illustrated with examples drawn from contemporary literature and the media. Using a comparative analysis approach, the authors discuss grammatical, lexical and semantic translation issues, and offer guidance regarding correct and idiomatic usage.
A much-needed addition to the field for university-level students of translation and professional translators alike, the A to Z has been designed with a view to: 
developing and honing skills in translating between Arabic and English
enhancing idiomatic expression in both languages
raising awareness of problems specific to Arabic-English and English-Arabic translation
increasing competency by providing appropriate strategies for effective translation.
Alphabetic arrangement of the entries ensures ease of use as both a manual and a reference work. As such, the A to Z is eminently suited for both independent and classroom use.
---
We Also Recommend