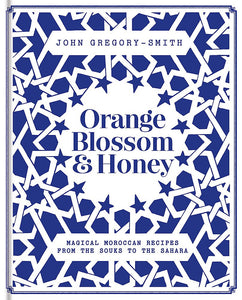 Orange Blossom & Honey: Magical Moroccan recipes from the souks to the Sahara
John Gregory-Smith
Orange Blossom & Honey is a culinary journey across Morocco, from the souks of Marrakesh, through the Sahara, and onto the blustery shores of the Atlantic coast.
In researching this book, John travelled into the heart of the High Atlas Mountains to learn the secrets of traditional lamb barbecue, then journeyed north, through the city of Fes, where the rich dishes of the Imperial Courts are still prepared in many homes.
From here he continued on to the Rif Mountains, where rustic recipes are made with the freshest seasonal produce. From Moroccan-style paella, cooked in the painted town of Chefchaouen, to stuffed Berber breads baked in the hot desert sands, John has discovered the real food of the country, learning from the locals to reveal little-known dishes, which he then gives his modern twist.
The chapters include Streetfood, Salads & Vegetables, Meat & Poultry, Seafood, Tagines and Desserts, plus there is a section of spice mixes and marinades from chermoula to harissa. With mouthwatering recipes, breath-taking location photography and John's infectious enthusiasm, this is an essential addition to every cook's collection.
---
We Also Recommend