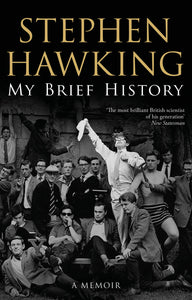 My Brief History
Stephen Hawking (University of Cambridge)
'His clarity, wit and determination are evident, his understand and good humour moving' New Scientist My Brief History recounts Stephen Hawking's improbable journey, from his post-war London boyhood to his years of international acclaim and celebrity.
Lavishly illustrated with rarely seen photographs, this concise, witty and candid account introduces readers to a Hawking rarely glimpsed in previous books: the inquisitive schoolboy whose classmates nicknamed him 'Einstein'; the jokester who once placed a bet with a colleague over the existence of a black hole; and the young husband and father struggling to gain a foothold in the world of academia.
Writing with characteristic humility and humour, Hawking opens up about the challenges that confronted him following his diagnosis of motor neurone disease aged twenty-one. Tracing his development as a thinker, he explains how the prospect of an early death urged him onwards through numerous intellectual breakthroughs, and talks about the genesis of his masterpiece A Brief History of Time - one of the iconic books of the twentieth century.
Clear-eyed, intimate and wise, My Brief History opens a window for the rest of us into Hawking's personal cosmos. 'Read it for the personal nuggets . . . but above all, it's worth reading for its message of hope' Mail on Sunday
---
We Also Recommend