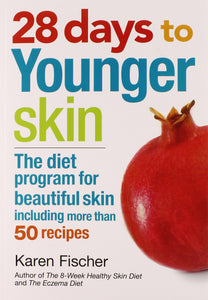 28 Days to Younger Skin: The Diet Program for Beautiful Skin
Karen Fischer
28 Days to Younger Skin is a fast-track program designed for anyone who has a special occasion coming up such as a wedding, holiday or any date by which looking the best is crucial. This book can be used to complement a current beauty regime, or to supply the nutrients in a diet needed to speed up recovery from and enhance results for a cosmetic procedure.
It is a 28-day program because it takes that long for the body to produce new skin cells in the deeper skin layers and then for them to travel to the surface of the skin. This can be literally the beginning of a new look by day 28. Since it also takes about 21 days to form new habits, by the end of the program there are already healthy new habits in place.
The program is designed to boost metabolism and supply all the nutrients needed for skin repair, renewal and maintenance. It can also improve energy and feelings of wellbeing, and it's healthy for the whole body. There's also plenty of information to make choosing the right anti-aging skin care a breeze.
Conditions that can be improved include:
Premature aging
fine lines and wrinkles
dry skin
rough or bumpy skin
poor skin tone and cellulite
mild age spots and hyperpigmentation
excessive body odor and bad breath
fatigue and sluggishness
hypoglycemia
inability to lose weight
abdominal bloating
poor immunity to colds and flu
candida albicans infestations
slow wound healing
poor exercise recovery and much more.
Beauty is not only skin deep. Looking after skin will improve inner health too. That's where the 58 recipes and meal plans play a pivotal active role in the program. Following the diet will lead not only to younger skin but also lower cholesterol levels and controlled blood sugar, which can decrease the risk of type 2 diabetes.
Each person has unique, specific desires when it comes to improving skin. This program can be tailored to suit those specific needs. For example, for stubborn conditions such as cellulite, dry skin or acne there is a specific course of action in the table provided at the back of the book. Keep in mind that 28 days can be a very short period of time and this program is designed to work fast. There is work to do for every one of those days, and enjoying younger skin at the end is worth it.
---
We Also Recommend