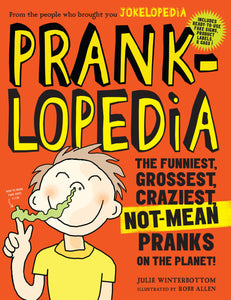 Pranklopedia 2nd Edition: The Funniest, Grossest, Craziest, Not-Mean Pranks on the Planet!
Julie Winterbottom
Every day is April Fools Day. Pure heaven for the prankster, Pranklopedia is as indispensable a compilation of pranks as Jokelopedia is a collection of jokes.
Written by lontime Nickelodeon Magazine editor in chief Julie Winterbottom, Pranklopedia is a complete prank encyclopedia. It includes over 70 pranks, with step by step directions; a full colour, sixteen page insert of supplementary materials, including "tasty" soup can labels (mmm, Cream of Sparrow Soup!) and a "winning" lottery ticket; recipes for such essential prank stuff as fake snot, fake vomit, fake ice cream; tips on how to pull the perfect prank; profiles of famous pranks and pranksters; even a prank woven right into the book - spot the fake entries in the Prankster Hall of Fame.
As for the pranks themselves - they're priceless. Classics like short sheeting the bed and the dancing dollar. There's the cure - mouse turd in ice - and really crude - make fake, edible dog poop. And there are pranks especially good to pull on your parents - deliver the "Take Your Teacher Home Day" letter from school and watch them freak out.
---
We Also Recommend