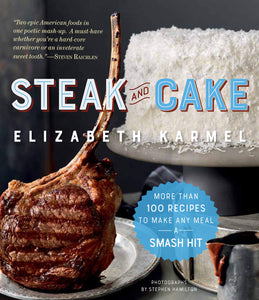 Steak and Cake: More Than 100 Recipes for the Best Meal Ever
Elizabeth Karmel
Just when you thought you couldn't handle one more quinoa salad or cold-pressed juice, here comes a cookbook devoted to the best meal ever - a char-crusted, luscious steak, followed by the kind of homemade cake that wears its butter, eggs, sugar, and love proudly.
Steak and Cake is a paean to pleasure from Elizabeth Karmel, who's both America's leading female pitmaster and a gifted baker who grew up in the South's cake belt. Now she's put her two passions together in a unique cookbook of more than 100 recipes.
Why not Cowboy Steak with Whiskey Butter followed by a Whiskey Buttermilk Bundt Cake? Or a Porterhouse for Two with Wild Mushroom Saute, followed by My Mother's Freshly Grated Coconut Cake? Or have fun by doing your own mixing and matching of steaks with cakes.
Along the way you'll gain a butcher's knowledge of steak - foolproof techniques for cooking steak on the grill, in the oven, in a cast-iron pan. There are steaks whole, cut up in kebobs and tacos, and ground in burgers.
Recipes for the sauces and great steakhouse sides are included, plus a lifetime's worth of tips that take the intimidation out of baking from scratch. Julia Child once said, "The only time to eat diet food is while you're waiting for the steak to cook." This book would have made her very proud.
---
We Also Recommend