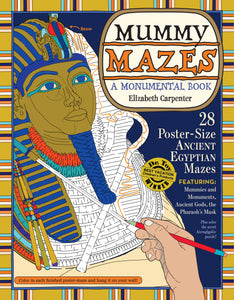 Mummy Mazes
Elizabeth Carpenter
Written and drawn by Elizabeth Carpenter, MUMMY MAZES is ingeniously designed to open up to 28 poster-size pages-these are deliciously big mazes, the kind kids will pore over for hours.
There are mummies, monuments, and intricate murals, ancient gods and the Pharaoh's mask, scarabs, an Egyptian night sky, and the Giant Sphinx who guards the pyramid complex at Giza. The meticulously drawn mazes lead kids through hieroglyphics, cracks in the limestone, detailed wall paintings, and more.
Adding to the fun, each maze is linked by an adventure-the reader joins Professor Archie Ologist on an expedition from the Colossi of Memnon into the heart of long-lost tombs, learning along the way about the cat-goddess Bastet, why both men and women wore wigs, and how much linen it sometimes took to wrap an important mummy (three miles' worth!).
Once all the mazes are completed, there's a hieroglyphic puzzle to solve at the end-and then the whole doubles as a colouring book. The pages are perforated to tear, colour, and then display on the wall.
---
We Also Recommend