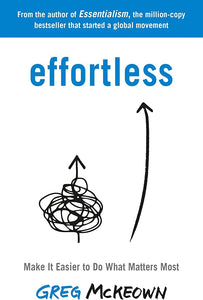 Effortless: Make It Easier to Do What Matters Most: The Instant New York Times Bestseller
Greg McKeown
'In a world beset by burnout, Greg McKeown's work is essential' -- Daniel H. Pink

'Effortless shows that achieving more doesn't have to be as hard as we make it out to be' -- Arianna Huffington

FROM THE INTERNATIONALLY BESTSELLING AUTHOR OF ESSENTIALISM COMES A GUIDE TO MAKING THE MOST IMPORTANT TASKS EFFORTLESS

The intricacy of modern life has created a false dichotomy between things that are 'hard and important,' and those that are 'easy and trivial.' Everything has become so much harder than it ought to be. But, Greg McKeown, bestselling author of Essentialism, says, there is a third alternative. In Effortless, he offers practical strategies for making the most vital tasks the easiest ones. Honed over the better part of a decade, these strategies include:

· Asking 'What Step Can I Remove?' (accomplish more, in fewer steps)
· Having the Courage to Be Rubbish (prioritize progress over perfection)
· Deciding What 'Done' Looks Like (don't keep running after you pass the finish line)

McKeown's philosophy of essentialism has helped thousands to eliminate nonessential activities and focus on the few that really matter. Working out what is essential is the first step - making these tasks effortless is the next. Effortless will show you how.
---
We Also Recommend