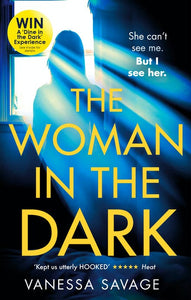 The Woman in the Dark: A haunting, addictive thriller that you won't be able to put down
Vanessa Savage
Don't miss the spellbinding new thriller from Vanessa Savage. THE WOODS is out on 23rd January 2020. There's a stranger in the house . . . But what if the stranger is your husband? 'Kept us utterly spooked and utterly hooked' HEAT 'Claustrophobic and compelling' GOOD HOUSEKEEPING 'Unputdownable' LAURA MARSHALL 'A vivid portrait of buried tensions' DAILY MAIL 'An intense tale of deceit, treachery and loss' THE SUN 'Scary, pacy and compelling' CLAIRE DOUGLAS 'Creepy and atmospheric' AMANDA JENNINGS ************** For Sarah and Patrick, life has always been easy.
Then they move to Patrick's childhood home and everything changes. Fifteen years ago, another family was murdered there. Patrick says they can make it perfect again, but their children are plagued by nightmares and Sarah swears someone is watching the house. Worse still, the longer they live in their 'dream' home, the more different her loving husband becomes . . .
A chilling psychological thriller about dark family dysfunction and the secrets that haunt us, The Woman in the Dark will captivate fans of Shari Lapena, Louise Candlish and THE INNOCENT WIFE by Amy Lloyd.
What readers are saying about THE WOMAN IN THE DARK: 'I can honestly say that this book will be next years must read psychological thriller of 2019' 'A deeply disturbing psychological thriller which always stays on the right side of horror' 'What a cracker of a book.
Unputdownable and well written' 'I loved this book and stayed up half the night to finish it' 'A real page-turner . . . I thoroughly enjoyed it' 'A dark and many layered book. Hooked from the very first page' Brilliant . . . a fantastic ending with a twist that I did not see coming
---
We Also Recommend