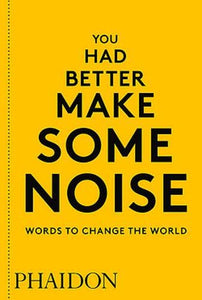 You Had Better Make Some Noise: Words to Change the World
Phaidon Editors
A timeless collection of quotations by visionaries who have been catalysts for change - through the ages and across the globe You Had Better Make Some Noise brings together the words of social activists, revolutionaries, artists, writers, musicians, philosophers, politicians, and more - galvanizing us all to do the same.
Familiar figures - Thomas Paine to Bertrand Russell, Augustine to Gloria Steinem, Harvey Milk to Ai Weiwei, James Baldwin to Margaret Mead - are joined by a chorus of voices that have made their own indelible marks on the legacy of protest and progress.
"When the history of our times is written, will we be remembered as the generation that turned our backs in a moment of global crisis or will it be recorded that we did the right thing?" Nelson Mandela asked that question, and this positive and reinforcing book urges us to heed the call.
---
We Also Recommend