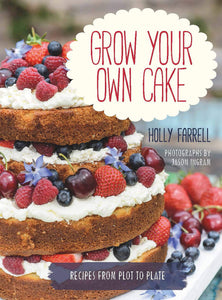 Grow Your Own Cake: Recipes from Plot to Plate
Holly Farrell; Jason Ingram
The veg plot and fruit garden are the new starting points for the healthiest, best cakes - and with this book you can grow and bake the tastiest cakes with most of the ingredients not far from your fingertips, all the way from sowing the seeds to cutting the cake.
Choose the best baking varieties for each recipe: grow long sweet parsnips to grate into parsnip cake, and short baby parsnips for a tarte-tatin.
From blackcurrants for meringues to lavender for shortbread, from sweet potatoes to spinach, cherries to chillies, beetroot to basil, and ginger to garlic, all manner of vegetables, fruit, herbs and flowers can be found in a baker' s kitchen garden.
Grow Your Own Cake helps you to take giant strides on the road to self-sufficiency while turning your fabulous crops into sweet, savoury, floral and delicate treats. We say: grow it, bake it, eat it!
---
We Also Recommend