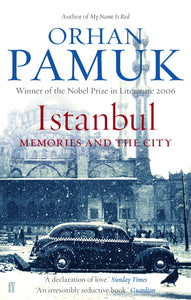 Istanbul
Orhan Pamuk; Maureen Freely
Istanbul is a shimmering evocation, by turns intimate and panoramic, of one of the world's great cities, by its foremost writer.
Orhan Pamuk, winner of the Nobel Prize in 2006, was born in Istanbul, in the family apartment building where his mother first held him in her arms. His portrait of his city is thus also a self-portrait, refracted by memory and the melancholy-or huzun- that all Istanbullus share: the sadness that comes of living amid the ruins of a lost Ottoman Empire.
As he companionably guides us across the Bosphorus, through Istanbul's historical monuments and lost paradises, its dilapidated Ottoman villas, back streets and waterways, he also introduces us to the city's writers, artists and murderers.
Like the Dublin of Joyce and Jan Morris' Venice, Pamuk's Istanbul is a triumphant encounter of place and sensibility, beautifully written and immensely moving.
---
We Also Recommend