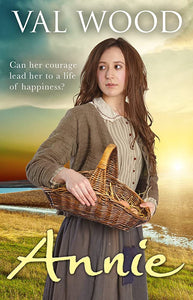 Annie
Val Wood
Can her courage lead her to a life of happiness?
Annie Swinburn is harbouring a terrible secret. She has killed a man. The man was evil in every possible way, but she knows that her only fate if she stays in the slums of Hull is a hanging.
And so she runs. As fast as she can, and as far as she can – up the river, along hidden paths of the Humber and into a new and familiar territory where she can start a new life.
There she meets Toby Linton – a man born into a good life but now estranged from his family. He and his brother Matt earn a dangerous living as smugglers, but Annie soon realises they have more in common than she thought. And this new way of life might just offer her the chance of love, in spite of all the tragedy that has gone before...
If you enjoy books by Katie Flynn and Dilly Court, you'll love Val's heartwarming stories of triumph over adversity.
---
We Also Recommend