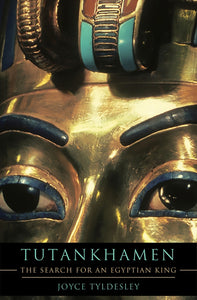 Tutankhamen: The Search for an Egyptian King
Joyce Tyldesley
The discovery of King Tutankhamen's tomb in 1922 was perhaps the world's most important archaeological find. The only near-intact royal tomb to be preserved in the Valley of the Kings, it has supplied an astonishing wealth of artifacts, spurred a global fascination with ancient Egypt, and inspired folklore that continues to evolve today.
Despite the tomb's prominence, however, precious little has been revealed about Tutankhamen himself. In Tutankhamen , acclaimed Egyptologist Joyce Tyldesley unshrouds the enigmatic king.
She explores his life and legacy as never before, and offers a compelling new window onto the world in which he lived. Tutankhamen ascended to the throne at approximately eight years of age and ruled for only ten years. Although his reign was brief and many of his accomplishments are now lost to us, it is clear that he was an important and influential king ruling in challenging times.
His greatest achievement was to reverse a slew of radical and unpopular theological reforms instituted by his father and return Egypt to the traditional pantheon of gods.
A meticulous examination of the evidence preserved both within his tomb and outside it allows Tyldesley to investigate Tutankhamen's family history and to explore the origins of the pervasive legends surrounding Tutankhamen's tomb.
These legends include Tutankhamen's"curse"- an enduring myth that reaffirms the appeal of ancient magic in our modern world A remarkably vivid portrait of this fascinating and often misunderstood ruler, Tutankhamen sheds new light on the young king and the astonishing archeological discovery that earned him an eternal place in popular imagination.
---
We Also Recommend