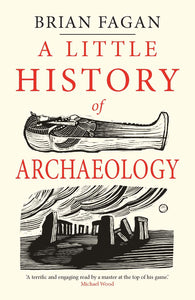 A Little History of Archaeology
Brian Fagan
"An entertaining account of the development of archaeology across the world. . . Fagan's recollections. . . help bring the history to life."-Current World Archaeology "Learned and lively."-Wall Street Journal What is archaeology?
The word may bring to mind images of golden pharaohs and lost civilizations, or Neanderthal skulls and Ice Age cave art. Archaeology is all of these, but also far more: the only science to encompass the entire span of human history-more than three million years!
This Little History tells the riveting stories of some of the great archaeologists and their amazing discoveries around the globe: ancient Egyptian tombs, Mayan ruins, the first colonial settlements at Jamestown, mysterious Stonehenge, the incredibly preserved Pompeii, and many, many more. In forty brief, exciting chapters, the book recounts archaeology's development from its eighteenth-century origins to its twenty-first-century technological advances.
Shining light on the most intriguing events in the history of the field, this absolutely up-to-date book illuminates archaeology's controversies, discoveries, heroes and scoundrels, global sites, and newest methods for curious readers of every age.
---
We Also Recommend