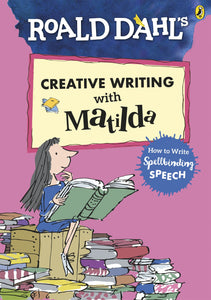 Roald Dahl's Creative Writing with Matilda: How to Write Spellbinding Speech
Roald Dahl, Quentin Blake
Create wonderful dialogue to give your characters a voice with the World's NUMBER ONE Storyteller! Perfect for home learning, go on a creative adventure with Matilda and learn how to write MARVELLOUS conversations and MAGNIFICENT reported speech.
These super fun activities will help you to:
* Improve language and vocabulary skills
* Develop the tools you need to write your own stories
* Learn how to write brilliantly authentic dialogue, experiment with silence and reveal what a character is thinking
Roald Dahl's Creative Writing will spark your creativity, build your confidence and inspire you through the wonderful worlds of Roald Dahl's best loved stories! Filled with top tips and ideas boxes, each book introduces techniques and methods to help you plan and write a phizz-whizzing story of your own!
---
We Also Recommend